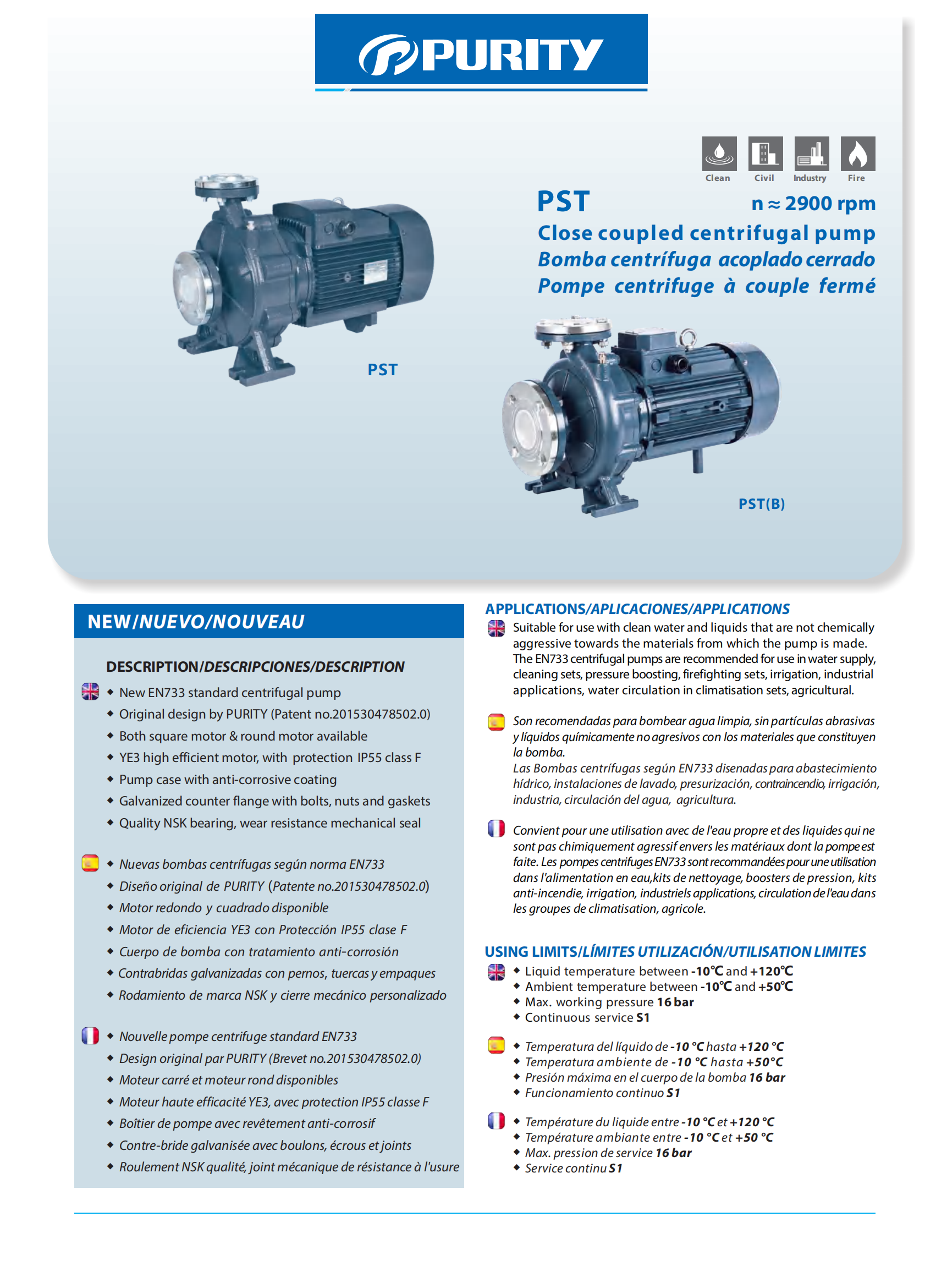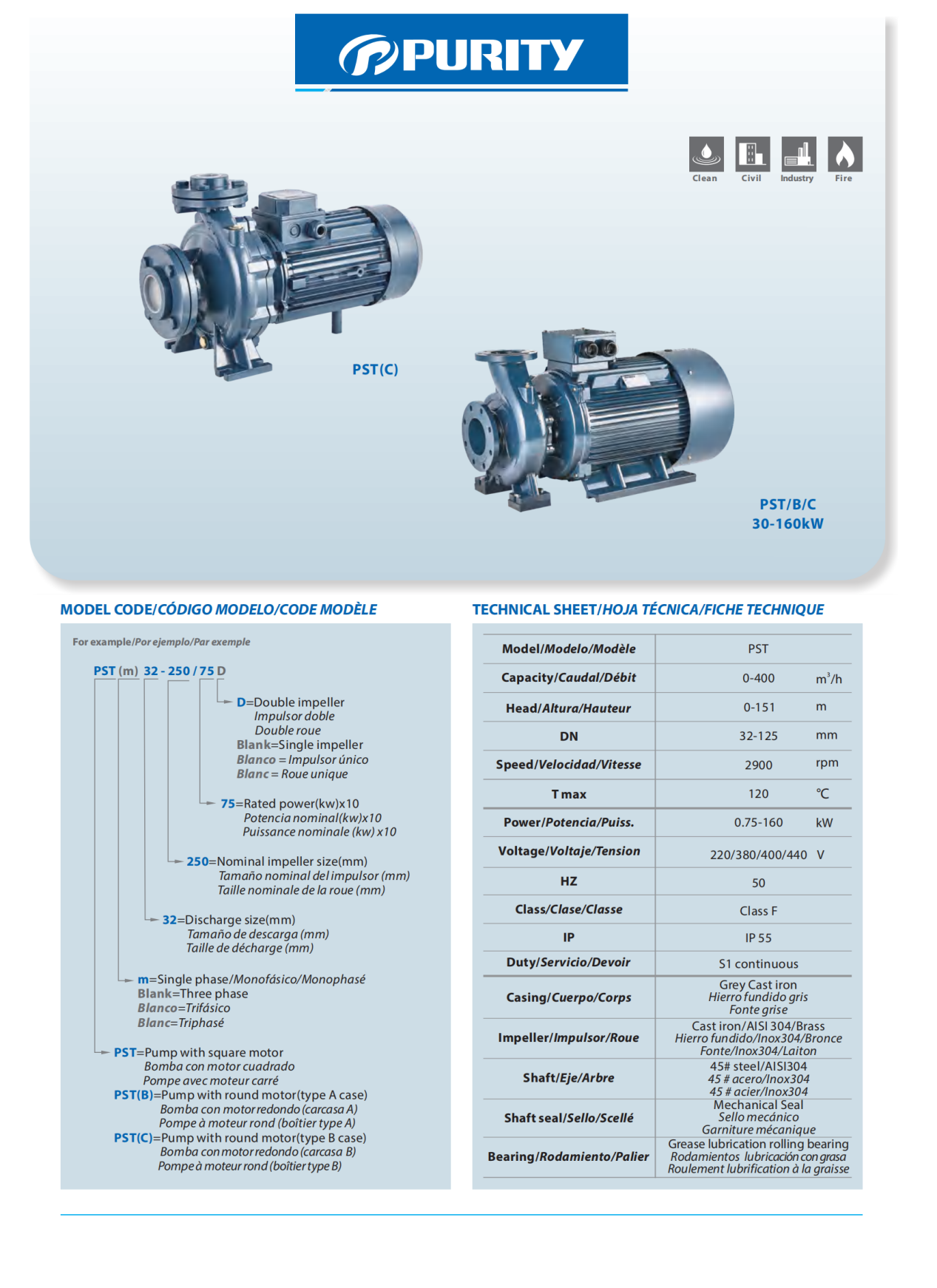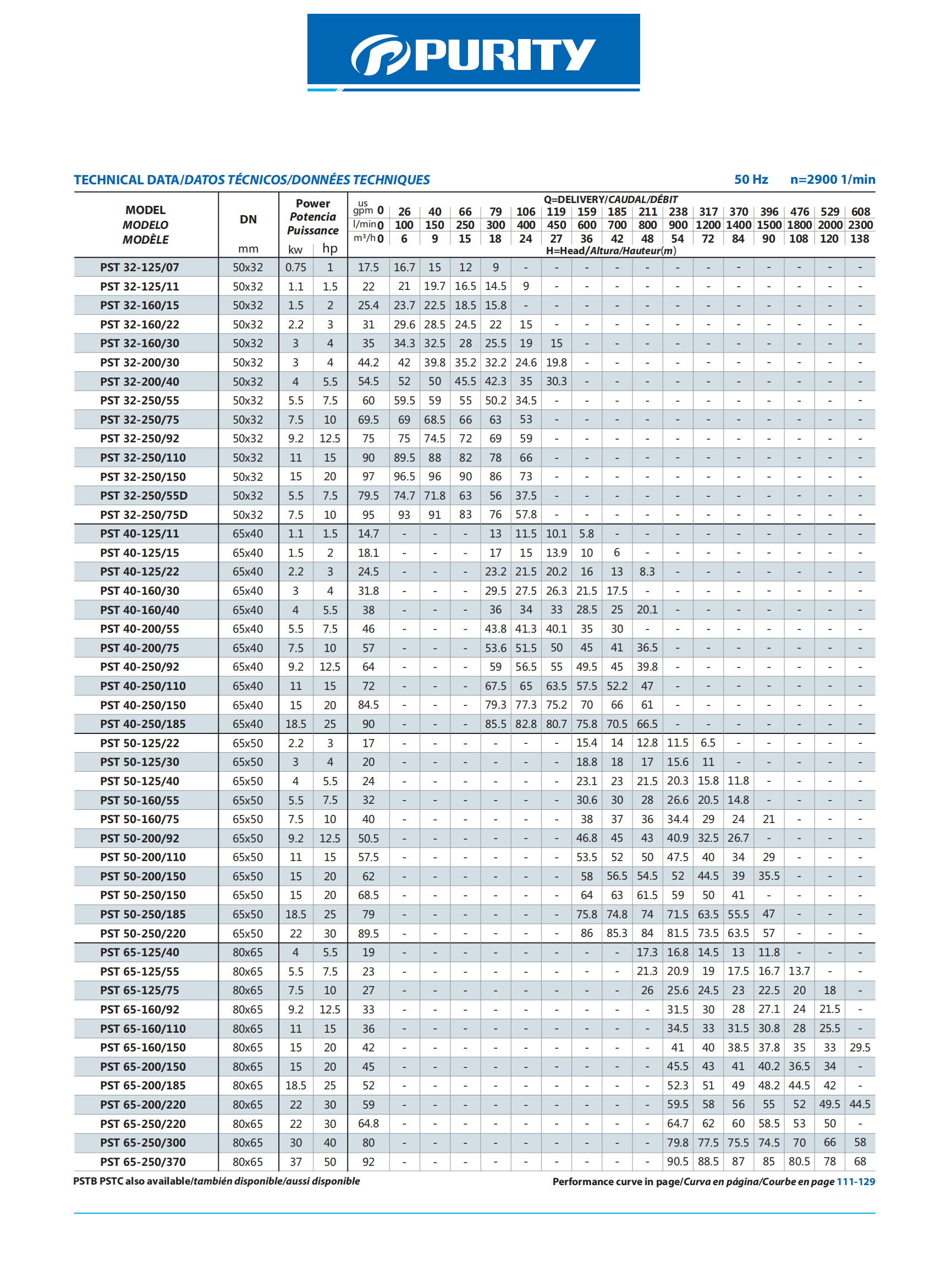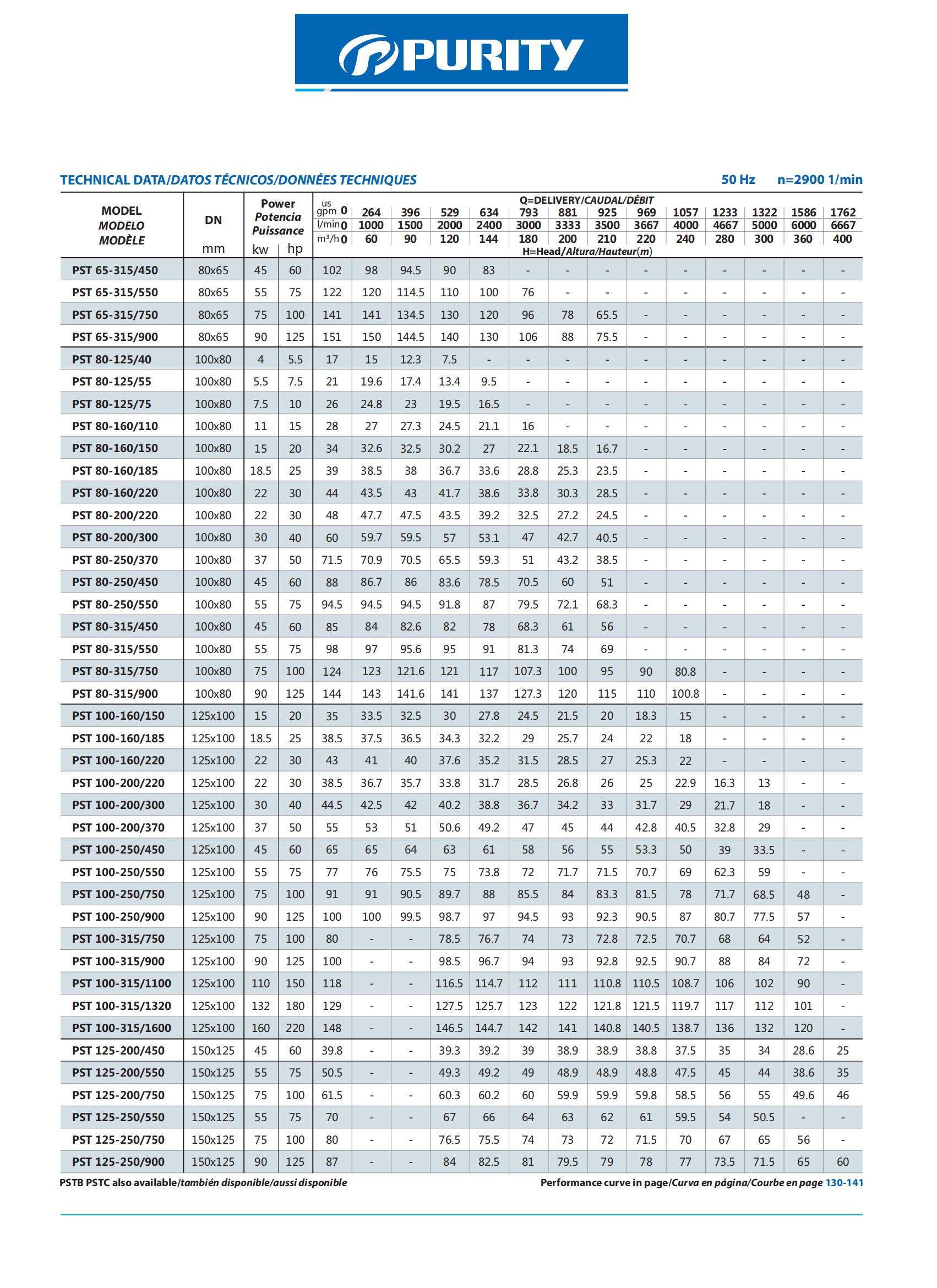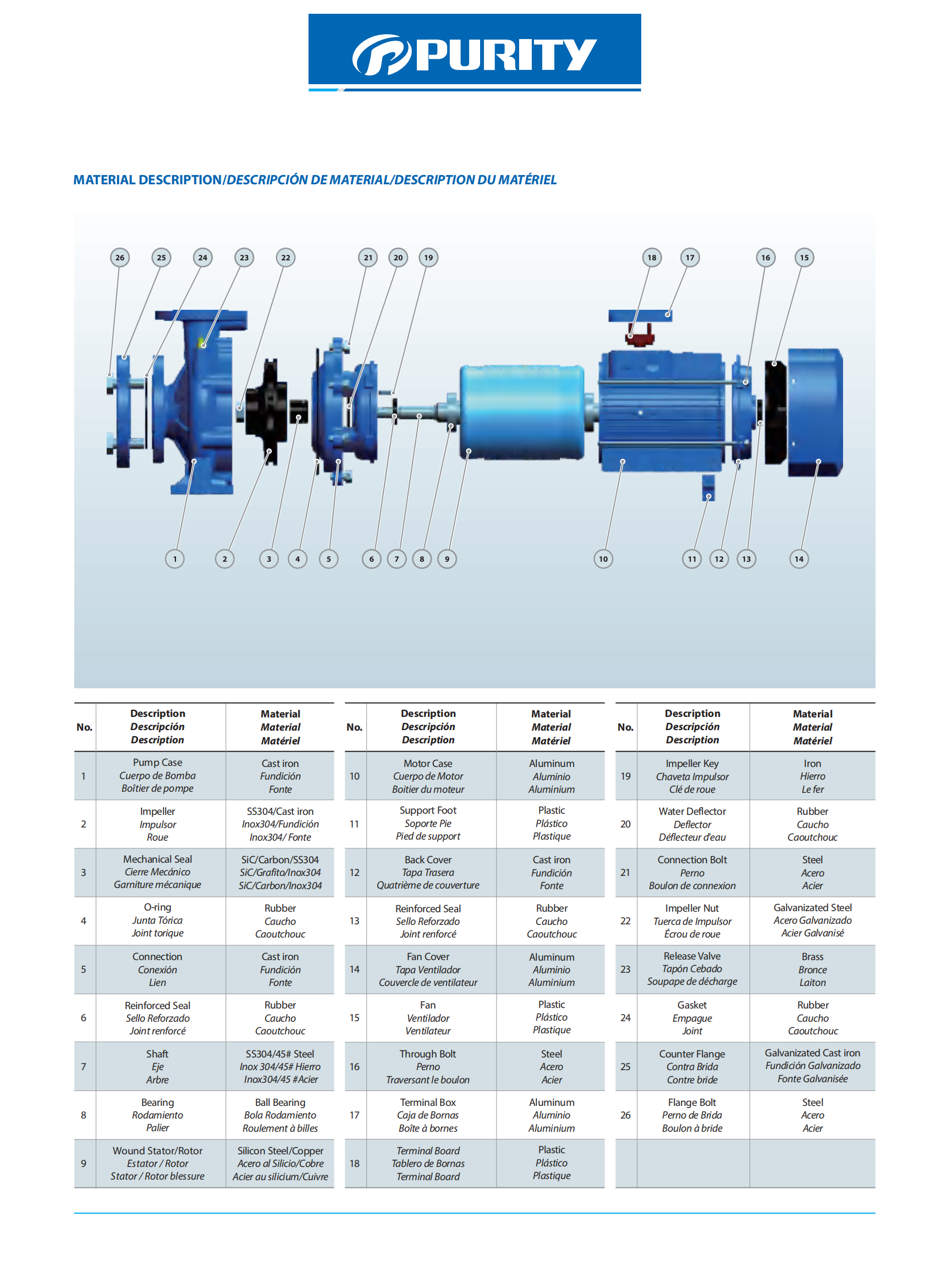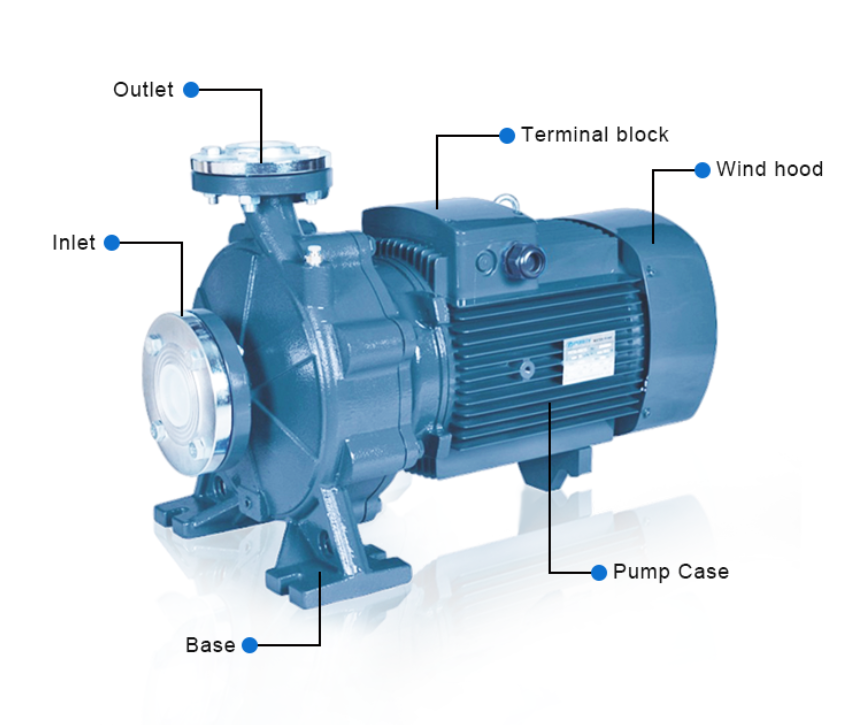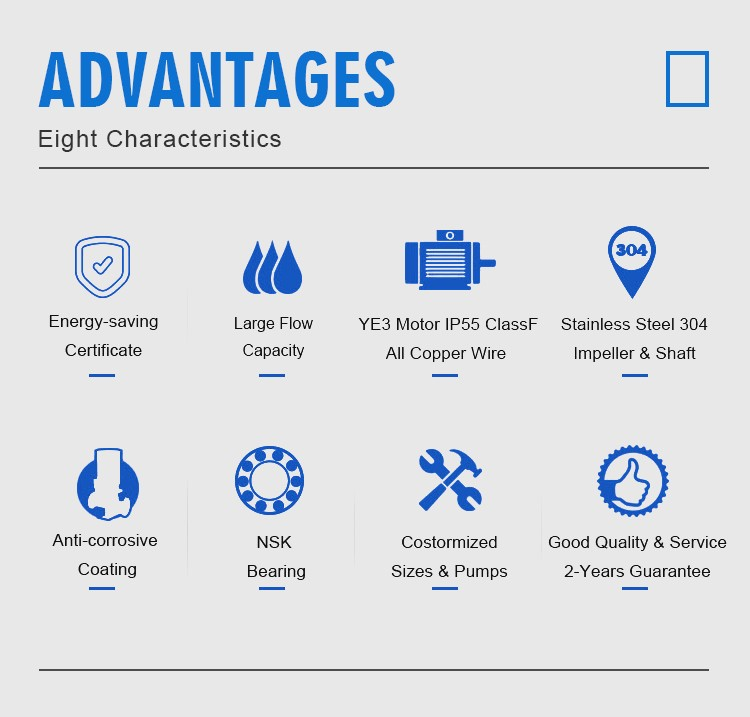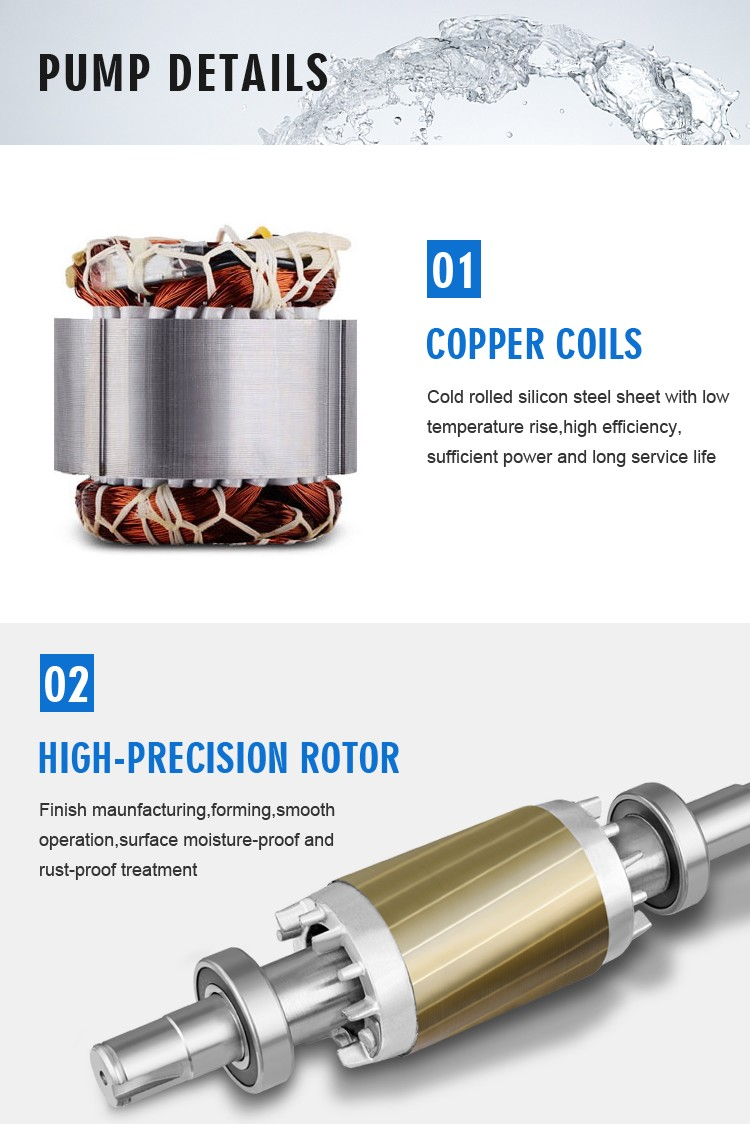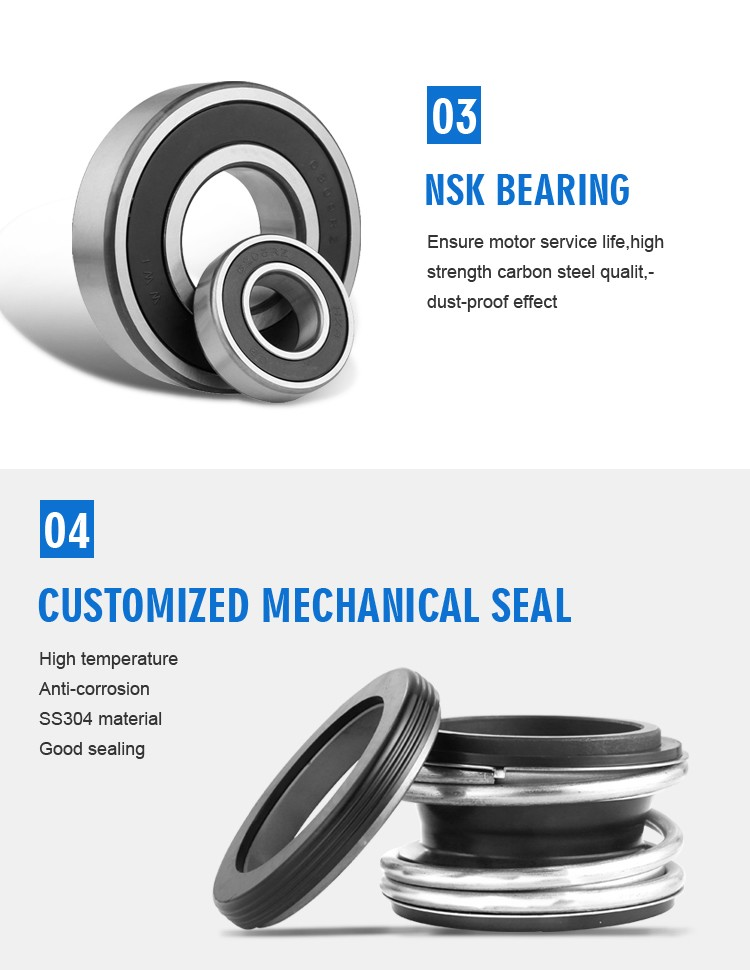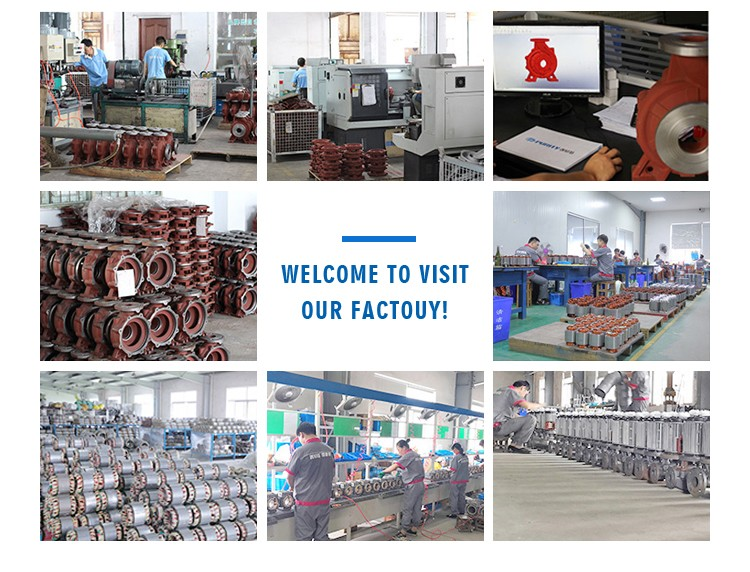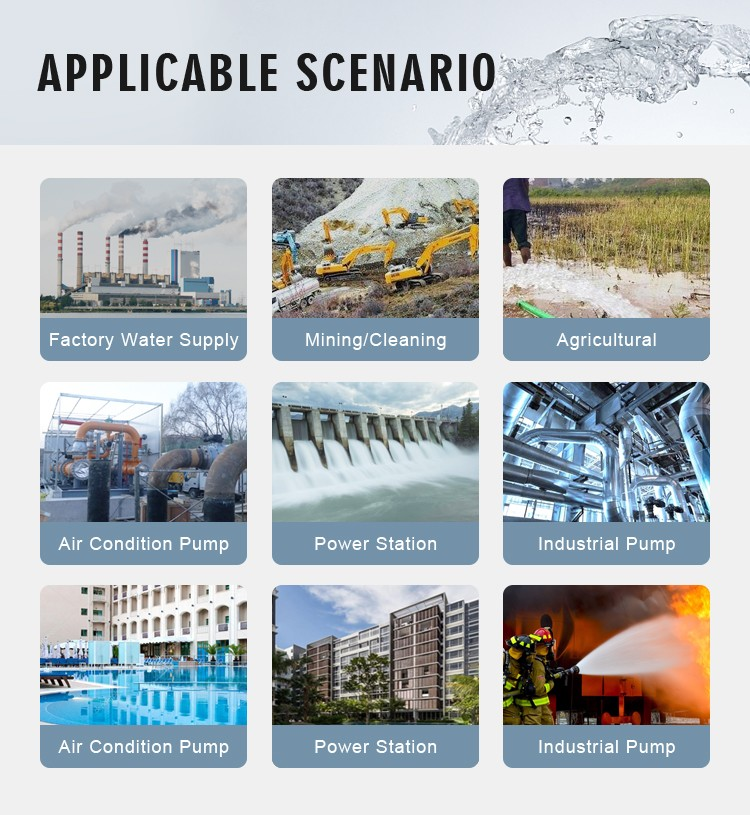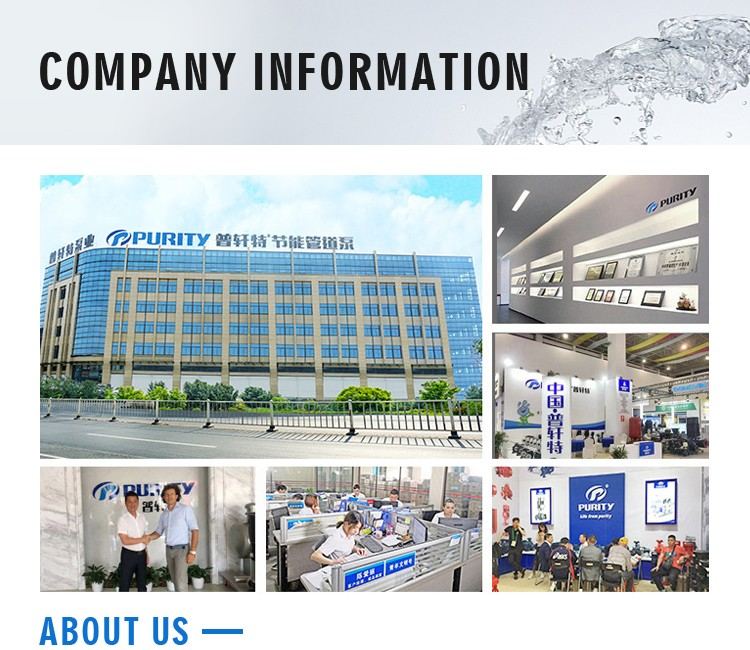 Purity Pump Co., Ltd. is a specialized manufacturer and supplier of high-quality
industrial pumps, exporting to global market in competitive prices. We provide
various reliable pumps for projects. Our main products are centrifugal pumps, fire
pumps and system, industrial pumps and agricultural pumps.
Our products and services have been deployed in more than 55 countries.
And we supply water pumps for many large projects like National Olympic Stadium.
We also supply centrifugal and fire pumps to some well-known pump companies all
over the world.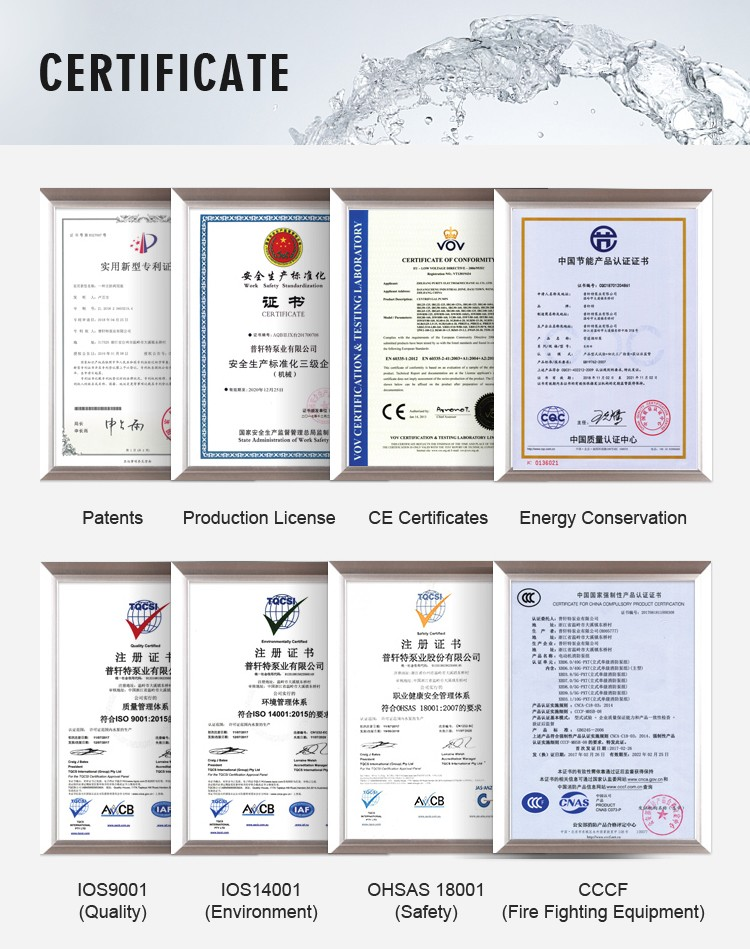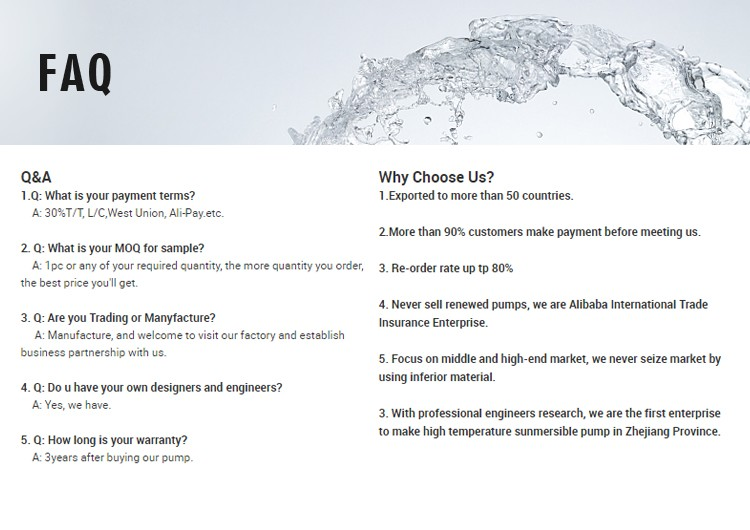 Product Description
---
TECHNICAL DESCRIPTION
New EN733 standard centrifugal pump
Original design by PURITY (patented)
Both square motor & round motor available
YE3 high efficient motor, with protection IP55 class F
Pump case with anti-corrosive coating
Impeller in stainless steel AISI 304 or cast iron
Shaft in stainless steel AISI 304 or galvanized iron
Galvanized counter flange with bolts, nuts and gaskets
Quality NSK bearing, wear resistance mechanical seal
APPLICATIONS
Suitable for use with clean water and liquids that are not chemically
aggressive towards the materials from which the pump is made.
The EN733 centrifugal pumps are recommended for use in water supply,
cleaning sets, pressure boosting, firefighting sets, irrigation, industrial
applications, water circulation in climatisation sets, agricultural.
USING LIMITS
Liquid temperature between -10℃ and +120℃
Ambient temperature up to +50℃
Max. working pressure 16 bar
Continuous service S1
PATENTS
Registered model PST
Registered Patent Design n° 201530478502.0
STANDARD IMPELLER MATERIAL
DISCHAEGE SIZE

IMPELLER SIZE

125

160

200

250

250D

315

400

32

SS304

SS304

SS304

Cast iron

SS304

40

Cast iron

Cast iron

Cast iron

Cast iron

/

50

Cast iron

Cast iron

Cast iron

Cast iron

/

65

Cast iron

Cast iron

Cast iron

Cast iron

/

Cast iron

80

Cast iron

Cast iron

Cast iron

Cast iron

/

Cast iron

Cast iron

100

Cast iron

Cast iron

Cast iron

/

Cast iron

Cast iron

125

Cast iron

Cast iron

/

Cast iron

Cast iron

150

Cast iron

Cast iron

/

Cast iron

Cast iron

200

Cast iron

/

Cast iron

Cast iron

250

/

Cast iron

Cast iron
| | |
| --- | --- |
| TECHICAL DATA/DATOS TECNICOS | 60 HZ n=3500 1/min |
MODEL MODELO

Power
Potencia

us
gpm

Q=DELIVERY / CAUDAL

DN

0

26

40

66

79

106

119

159

185

211

238

317

370

396

476

529

608

793

925

l/min

0

100

150

250

300

400

450

600

700

800

900

1200

1400

1500

1800

2000

2300

3000

3500

kw

hp

m³/h

0

6

9

15

18

24

27

36

42

48

54

72

84

90

108

120

138

180

210

mm

32-125/07

0.75

1

Head
H(m)

17.5

16.7

15

12

9

50x32

32-125/11

1.1

1.5

22

21

19.7

16.5

14.5

9

50x32

32-160/15

1.5

2

25.4

23.7

22.5

18.5

15.8

50x32

32-160/22

2.2

3

31

29.6

28.5

24.5

22

15

50x32

32-160/30

3

4

35

34.3

34

28

25.5

19

15

50x32

32-200/30

3

4

44.2

43

39.8

35.2

32.2

24.6

19.8

50x32

32-200/40

4

5.5

54.5

52

50

45.5

41.9

35

30.3

50x32

32-250/55

5.5

7.5

60

59.5

59

55

53

49

46

50x32

32-250/75

7.5

10

75

74.5

74.3

73.5

72.5

68.5

67.3

60

50x32

32-250/110

11

15

90

87.5

85.8

82

79

75

72

65

50x32

32-250/55D

5.5

7.5

79.5

77

74

70

66

54

42

50x32

32-250/75D

7.5

10

95

93

91

87

83

75

70

32

50x32

40-125/11

1.1

1.5

14.7

13.5

11.5

10.1

5.8

65x40

40-125/15

1.5

2

18.1

17

15

13.9

9.6

6

65x40

40-125/22

2.2

3

24.5

23.2

21.5

20.2

16

13

8.3

65x40

40-160/30

3

4

31.8

29.5

27.5

26.3

21.5

17.5

65x40

40-160/40

4

5.5

38

36

34

33

28.5

25

20.1

65x40

40-200/55

5.5

7.5

46

43.8

41.3

40.1

35

30

65x40

40-200/75

7.5

10

57

53.6

51.5

50

45

41

36.5

65x40

40-250/92

9.2

12.5

64

59

56.5

55

49.5

45

39.8

65x40

40-250/110

11

15

78

75

73

72

67

63

56

43

65x40

40-250/150

15

20

88.5

83.5

80.5

79

74

70.5

65

52

65x40

50-125/22

2.2

3

17

15.4

14

12.8

11.5

6.5

65x50

50-125/30

3

4

20

18.8

18

17

15.6

11

65x50

50-125/40

4

5.5

24

23.1

23

21.5

20.3

15.8

11.8

65x50

50-160/55

5.5

7.5

32

30.6

30

28

26.6

20.5

14.8

65x50

50-160/75

7.5

10

40

38

37

36

34.4

29

24

21

65x50

50-200/92

9.2

12.5

50.5

46.8

45

43

40.9

32.5

26.7

65x50

50-200/110

11

15

57.5

53.5

52

50

47.5

40

34

29

65x50

50-200/150

15

20

62

58

56.5

54.5

52

44.5

39

35.5

65x50

50-250/150

15

20

68.5

64

63

61.5

59

50

41

65x50

50-250/185

18.5

25

79

75.8

74.8

74

71.5

63.5

55.5

47

65x50

50-250/220

22

30

89.5

86

85.3

84

81.5

73.5

65.5

57

65x50

65-125/40

4

5.5

19

17.3

16.8

14.5

13

11.8

80x65

65-125/55

5.5

7.5

23

21.3

20.9

19

17.5

16.7

13.7

80x65

65-125/75

7.5

10

27

26

25.6

24.5

23

22.5

20

18

80x65

65-160/92

9.2

12.5

33

31.5

30

28

27.1

24

21.5

80x65

65-160/110

11

15

36

34.5

33

31.5

30.8

28

25.5

80x65

65-160/150

15

20

42

41

40

38.5

37.8

35

33

29.5

80x65

65-200/150

15

20

45

45.5

43

41

40.2

36.5

34

80x65

65-200/185

18.5

25

52

52.3

51

49

48.2

44.5

42

80x65

65-200/220

22

30

59

59.5

58

56

55

52

49.5

44.5

80x65

65-250/220

22

30

64.8

64.7

62

60

58.5

53

50

80x65

65-250/300

30

40

80

79.8

77.5

75.5

74.5

70

66

58

80x65

65-250/370

37

50

92

90.5

88.5

87

85

80.5

78

68

80x65

80-125/40

4

5.5

17

16.5

15.9

14.3

13.5

11.6

10

7.5

100x80

80-125/55

5.5

7.5

21

20.5

20

19

18

16.5

15

12.5

9.5

100x80

80-125/75

7.5

10

26

25

25

24.5

23.8

22.5

21.5

19.5

16.5

100x80
| | |
| --- | --- |
| TECHICAL DATA/DATOS TECNICOS | 60 HZ n=3500 1/min |
MODEL
MODELO

Power
Potencia

us
gpm

Q=DELIVERY / CAUDAL

DN

0

264

396

529

634

793

881

925

969

1057

1233

1322

1586

1762

2203

2643

3524

4405

l/min

0

1000

1500

2000

2400

3000

3333

3500

3666

4000

4666

5000

6000

6666

8333

10000

13333

16666

kw

hp

m³/h

0

60

90

120

144

180

200

210

220

240

280

300

360

400

500

600

800

1000

mm

80-160/110

11

15

Head

H(m)

27

27

27.3

24.5

21.1

16

100x80

80-160/150

15

20

32.8

32.6

32.5

30.2

27

22.1

18.5

16.7

100x80

80-160/185

18.5

25

39

38.5

38

36.7

33.6

28.8

25.3

23.5

100x80

80-160/220

22

30

44

43.5

43

41.7

38.6

33.8

30.3

28.5

100x80

80-200/220

22

30

48

47.7

47.5

43.5

39.2

32.5

27.2

24.5

100x80

80-200/300

30

40

60

59.7

59.5

57

53.1

47

42.7

40.5

100x80

80-250/370

37

50

71.5

70.9

70.5

65.5

59.3

51

43.2

38.5

100x80

80-250/450

45

60

88

86.7

86

83.6

78.5

70.5

60

51

100x80

80-250/550

55

75

94.5

94.5

94.5

91.8

87

79.5

72.1

68.3

100x80

100-160/150

15

20

35

33.5

32.5

30

27.8

24.5

21.5

20

18.3

15

125x100

100-160/185

18.5

25

38.5

37.5

36.5

34.3

32.2

29

25.7

24

22

18

125x100

100-160/220

22

30

43

41

40

37.6

35.2

31.5

28.5

27

25.3

22

125x100

100-200/220

22

30

38.5

36.7

35.7

33.8

31.7

28.5

26.8

26

25

22.9

16.3

13

125x100

100-200/300

30

40

44.5

42.5

42

40.2

38.8

36.7

34.2

33

31.7

29

21.7

18

125x100

100-200/370

37

50

55

53

51

50.6

49.2

47

45

44

42.8

40.5

32.8

29

125x100

100-250/450

45

60

65

65

64

63

61

58

56

55

53.3

50

39

33.5

125x100

100-250/550

55

75

77

76

75.5

75

73.8

72

71.7

71.5

70.7

69

62.3

59

125x100

100-250/750

75

100

91

91

90.5

89.7

88

85.5

84

83.3

81.5

78

71.7

68.5

48

125x100
| | | | | | | | | |
| --- | --- | --- | --- | --- | --- | --- | --- | --- |
| No. | Description | Material | No. | Description | Material | No. | Description | Material |
| 1 | Pump Case | Cast iron | 10 | Motor Case | Aluminum | 19 | Impeller Key | Iron |
| 2 | Impeller | SS304/Cast iron | 11 | Support Foot | Plastic | 20 | Water Deflector | Rubber |
| 3 | Mechanical Seal | SiC/Carbon/SS304 | 12 | Back Cover | Cast iron | 21 | Connection Bolt | Steel |
| 4 | O-ring | Rubber | 13 | Reinforced Seal | Rubber | 22 | Impeller Nut | Galvanizated Steel |
| 5 | Connection | Cast iron | 14 | Fan Cover | Aluminum | 23 | Release Valve | Brass |
| 6 | Reinforced Seal | Rubber | 15 | Fan | Plastic | 24 | Gasket | Rubber |
| 7 | Shaft | SS304/45# Steel | 16 | Through Bolt | Steel | 25 | Counter Flange | Galvanizated Cast iron |
| 8 | Bearing | Ball Bearing | 17 | Terminal Box | Aluminum | 26 | Flange Bolt | Steel |
| 9 | Wound Stator/Rotor | Silicon Steel/Copper | 18 | Terminal Board | Plastic | | | |
| | | | | | | | | |
| --- | --- | --- | --- | --- | --- | --- | --- | --- |
| No. | Descripción | Material | No. | Descripción | Material | No. | Descripción | Material |
| 1 | Cuerpo de Bomba | Fundición | 10 | Cuerpo de Motor | Aluminio | 19 | Chaveta Impulsor | Hierro |
| 2 | Impulsor | Inox 304/Fundición | 11 | Soporte Pie | Plástico | 20 | Deflector | Caucho |
| 3 | Cierre Mecánico | SiC-Grafito-Inox304 | 12 | Tapa Trasera | Fundición | 21 | Perno | Acero |
| 4 | Junta Tórica | Caucho | 13 | Sello Reforzado | Caucho | 22 | Tuerca de Impulsor | Acero Galvanizado |
| 5 | Conexión | Fundición | 14 | Tapa Ventilador | Aluminio | 23 | Tapón Cebado | Bronce |
| 6 | Sello Reforzado | Caucho | 15 | Ventilador | Plástico | 24 | Empague | Caucho |
| 7 | Eje | Inox 304/45# Hierro | 16 | Perno | Acero | 25 | Contra Brida | Fundición Galvanizado |
| 8 | Rodamiento | Bola Rodamiento | 17 | Caja de Bornas | Aluminio | 26 | Perno de Brida | Acero |
| 9 | Estator / Rotor | Acero al Silicio/Cobre | 18 | Tablero de Bornas | Plástico | | | |
Production Line
---
Packaging & Shipping
---
Applications
---
Our Exhibition
---
Certifications
---